GRIT BAKING SERIES
Magazine
11203
Regular price
$20.97 USD
Sale price
$20.97 USD
Unit price
per
Sale
On Backorder
Share
Take your baking skills to the next level with the Grit Baking Series Set. Whether you are just starting the baking scene or a seasoned veteran, this set has something for everyone. Inside, you will find hundreds of mouthwatering recipes, tips to perfect your next batch of homemade bread, a guide to using a home grain mill to produce delicious flowers, and so much more. With this much information packed into one set, this is a must-have!
This set includes:
Grit Guide to Homemade Bread 8th Edition
Expand your knowledge of all things bread with this Grit Country Skills Series Guide to Homemade Bread, 8th Edition. This issue is a must-have from the beginning basics of making bread, facts about gluten, popular bread recipes, cornbread to cornmeal, and creating a food business on the homestead. With over 75 recipes inside this guide, you and your whole family can enjoy the benefits of homemade bread.
Grit Guide to Home Baking
This Grit Guide to Home Baking covers grain mills, how to bake with whole grains, DIY backyard bread ovens, baking in cast iron, tips on what to do with leftover bread, and more. You also receive tons of delicious recipes to use for all occasions. Whether it is bread and butter pudding, classic white bread, winter fattoush salad, or honey-lemon scones, this guide has you covered!
Grit Guide to Home Baking, 2nd Edition
In the Grit Guide to Home Baking, 2nd Edition, you'll get an in-depth look at breads and baking methods worldwide. From learning the possibilities for cooking whole-grain or gluten-free bread to discovering the perfect grain mill for your kitchen, this special issue is a trove of knowledge. Packed cover to cover with recipes from Sourdough Vegetable Stromboli and Homemade English Muffins to Garlic Bread and Turkey Stuffing, this collection will have everyone asking, "Can I have your recipe?"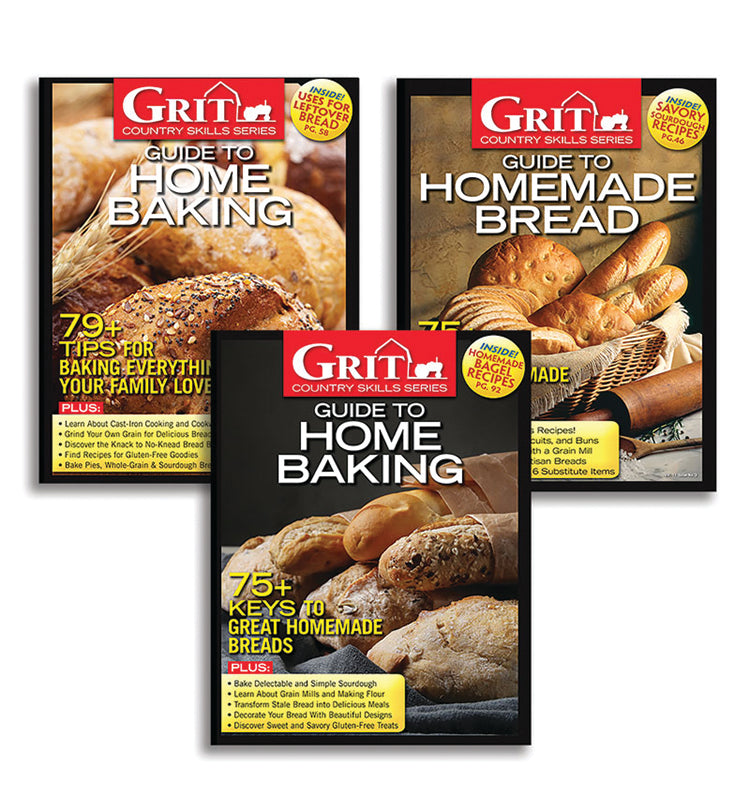 Great set.
Good easy to read and apply instructions and pictures. Have made several great loaves already. Ty.