GRIT PREMIUM COUNTRY RESOURCE SET
Magazine
8555
Regular price
Sale price
$19.99 USD
Unit price
per
Sale
On Backorder
Share
Live self-sufficiently with this GRIT Premium Country Resource Set! Get all the know-how and best advice for country living from Grit, including how to raise chickens, live frugally in the country, and make money from farmers' markets.
This set includes:
GRIT Premium Issue: Guide to Chickens, 2nd Edition
GRIT

 

Premium Issue: Guide to Frugal Country Living, Winter 2016
GRIT Premium Issue: Farmers' Market, Spring 2018
GRIT Premium: Guide to Chickens, 2nd Edition
Grit has created more than six editions of GRIT Guide to Chickens. All have been extremely popular with readers and full of valuable, expertly written articles on raising and maintaining a healthy backyard flock. Now, Grit has compiled the best of the best chicken articles into this newly updated and revised premium issue! The second edition of the GRIT Premium: Guide to Chickens features 112 pages of articles to get you tending your flock to the best of your abilities. With this premium issue, get advice from Grit flock owners, learn about various chicken breeds, discover why and how a rooster crows, try delicious recipes for eggs and meat chickens, keep predators at bay, build a coop, and more.
Other articles include:
Incredible Homestead Chickens – Easy-to-keep chickens will provide delicious eggs and meat, plus bug control, fertilizer, and tillage.
Use Up Those Eggs – Without feeding the local wildlife.
Wintering Chickens – Fowl weather lies ahead; follow a few easy steps, and your flock won't be vulnerable.
Chickens in the Garden – You can "recoop" much of the expense of raising chickens by putting their manure to work in your garden and enlisting your birds for organic pest control.
Adventures with Mail-Order Chickens – Certain beverages and ordering poultry do not mix.
GRIT PREMIUM: GUIDE TO FRUGAL COUNTRY LIVING

Grit has compiled expertly written tips on thriving on less out where the pavement ends. The new Grit Premium Issue: Guide to Frugal Country Living is 112 pages of articles that help you live a more sustainable lifestyle. Inside, you'll find how to create your own home-based business, heat the homestead with wood, build a hoop house, feed a flock of chickens the easy way, learn more about cast-iron cookware, make soap, and so much more.
Learn how a few extra seed-saving steps, and simple ones at that, will keep your garden growing next year. When considering a biomass system to heat your home or shop, read everything you need to know. Discover how reclaimed-lumber raised beds let you garden without the toil of tilling. Find out how the original nonstick cookware remains a kitchen essential with its versatility, durability, and ease of use. Learn the best (and simple) homemade cleaning recipes and avoid harmful chemicals (and save money!).
Other articles include:
Farmhouse Kitchen Renovation – For about $1,000, you can give your kitchen area an inspired and refreshing face-lift.
Salvaging Our Past – Reuse and repurpose items from the junk pile or antique shop for unique, low-budget farmstead furnishings.
Build a Passive Solar Greenhouse – Grow vegetables anywhere in any season in these climate-optimized, zero-energy-input greenhouses.
How to Cook Wild Game Meat – Learn the techniques to cook wild game meat for the best results, and try one of these five recipes for big and small game and wild fowl.
Save Money with Home-Canned Foods – Pursuing food independence is a proposition that pays off.
GRIT PREMIUM FARMERS MARKET
Learn how to: create a home-based business; break into your local farmers market; create a DIY personalized farm stand sign; become a beekeeper and grow lavender to make a profit; can jams and jellies for display at fairs; sell bread, soap, and birdhouses; and more! Do what you love to do every day, but create a business out of it. This 113-page issue contains 28 popular and relevant articles from Grit's archives.
Other articles include:

12 Ways to Sell Your Products – Discover various marketing methods and sell produce and other items created on your farm.
Earning on an Acre – Intensive square-foot gardening makes it possible to make more than $43,000 per acre in produce.
Creating a Food Business on the Homestead – Take your kitchen skills, add a great recipe and fresh ingredients, and combine for a great way to make yourself an income opportunity.
Here's Your Sign – Highlight your farm-raised produce and the personality of your homestead with a homemade sign for the farmers' market or farm stand.
Farm Your Niche – Small operations thrive on specialty markets.
Market Farming in the Suburbs – Limited acreage can still provide opportunities for earning significant income.
Grow a Gourd, Build a Birdhouse – A fulfilling project for gardeners who might want to use a piece of their bounty to attract some feathered, crooning critters.
Yarn Farming – Wool from secondhand sheep, alpacas, and llamas can bring a tidy sum to the small farm without the fuss of breeding.
Full of expert advice and beautiful, detailed photographs, this premium issue of Grit will have you getting a foot in your local farmers' market in no time.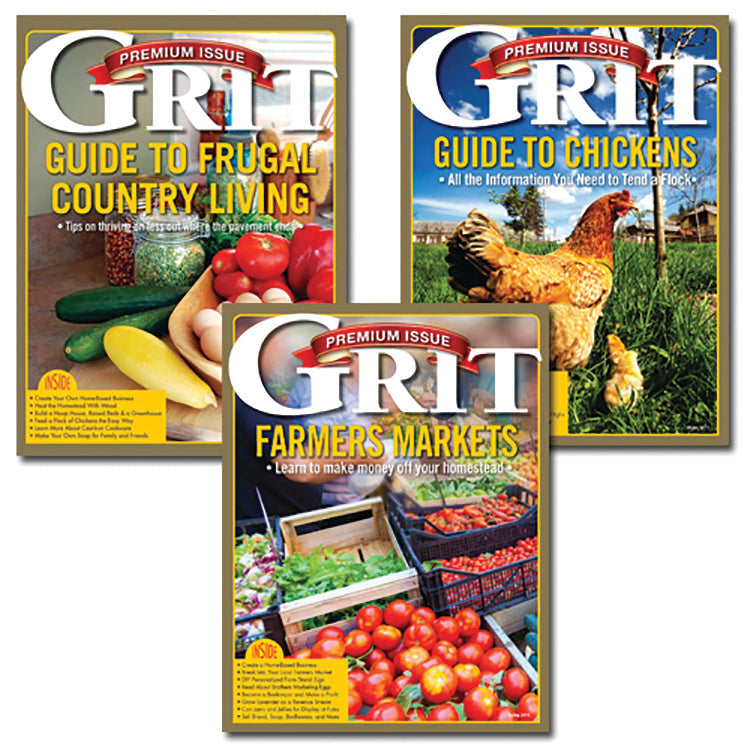 Packed with loads of information
All 3 magazines in this set are loaded with valuable information for anyone who wants to start living a self sustaining lifestyle.
I am extremely happy to have this set.
We're so glad the Grit Premium Country Resource Set has proven useful to you, Mick! Thanks so much for your review and your purchase!
Great book at a good price
Huge book of information... for a very reasonable price.
GRIT PREMIUM COUNTRY RESOURCE SET
Really nice and full of practical information.....
These are full of practical information. Even the publication is even so well done. Still reading them and I'm glad that I purchased them.